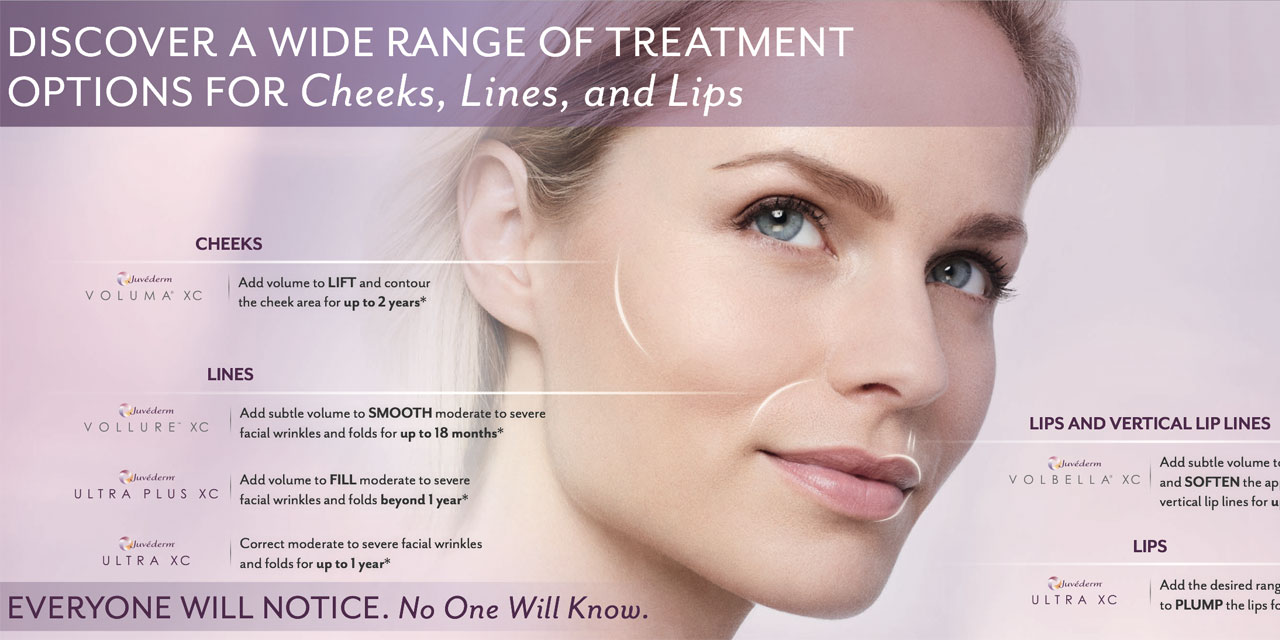 Juvéderm® Family of Facial Fillers
Young, healthy skin has plenty of naturally occurring hyaluronic acid, a major component of the extracellular matrix, the gel-like material that surrounds our skin cells and keeps them youthful. Hyaluronic acid also attracts water from within the dermis and moves it to the skin surface. Hyaluronic acid and other glycosaminoglycans play an important role in skin elasticity, tone, metabolism, regeneration, and wound healing.
As our skin ages over time, it loses it's natural abundance of hyaluronic acid, seen as decreased facial volume, decreased tone and increased wrinkles and folds.
Juvéderm Ultra XC,  Juvéderm Ultra Plus XC, Volbella, Vollure, and Voluma are all hyaluronic acid based gel fillers we use to replace the volume lost and immediately reduce shadow, wrinkles, depressed areas and even fine lines around the eyes and mouth. Juvéderm products are  manufactured using Hylacross™ technology, creating a smooth-consistency gel and infused with lidocaine to improve comfort during treatment. Results last  one to two years depending on the product, area, and amount used.


MAKE AN APPOINTMENT TODAY
Call us at 415-923-3970 or send us a message